It is not given to all men to be gentlemen. To talk to women you need art and style. Except that some men think they do so well by expressing out loud what they think low, advancing in this way in a minefield.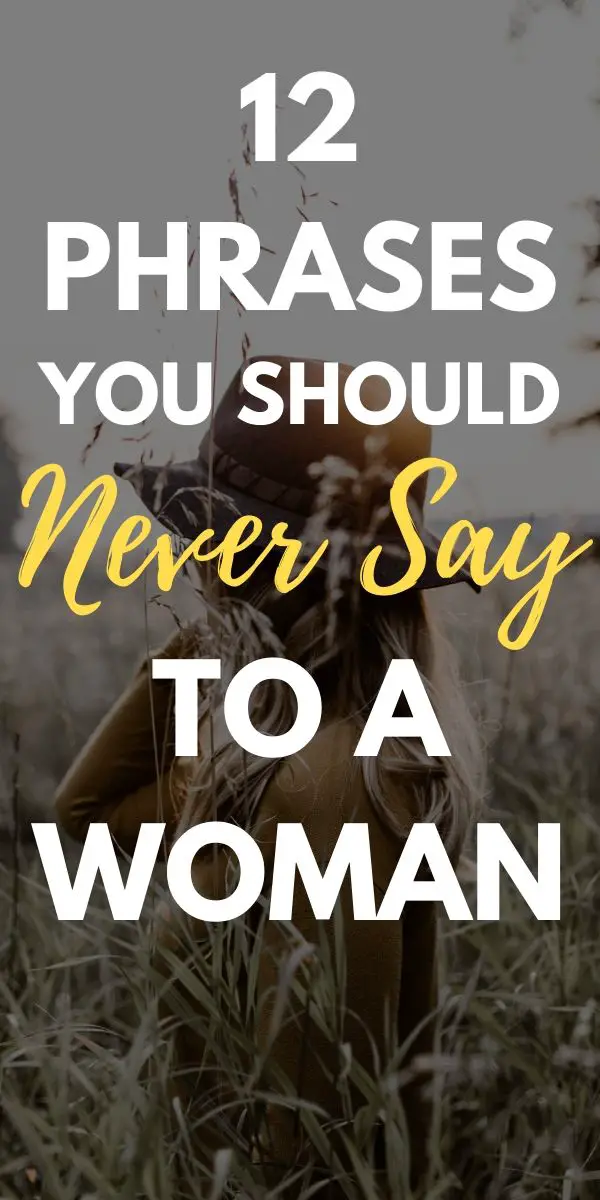 There are things you should definitely not say so as not to rush your partner. We can, however, pass the same message by choosing its words which will avoid any misunderstanding. Here are 12 sentences that women hate to hear:
The 12 sentences you should never say to a woman:
1 – You did not gain a little weight by chance: Gentlemen! If you've made the point, it's probably the case, unless she's wearing clothes that don't really enhance her figure. Either way, avoid thinking about your sweetheart's physique if you have nothing good to say. Even if you have a huge urge to say "Ah yes, you have put on weight!" Refrain! And just tell her I love you. You can, however, offer more balanced activities or meals, it's more pleasant for your couple.
2 – You are beautiful today: Seriously! and the other 364 ugly days, did you forget to mention them? Remove this "today" immediately, it's short, concise and insightful. You will make her the happiest of women.
3 – Your girlfriend is cute: you play with fire, complimenting other women is considered a comparison for your sweetheart, and if you also compliment her own girlfriend, be sure to attract her wrath.
4 – Are you 25 years old? I would have said at least 30: you have never heard the famous phrase "you never ask the age of a woman", now is the time to know her. If in addition you give him more than his age, it is a disaster.
5 – My ex also used to do this: Is it true? Nothing is more destabilizing for a woman than knowing that her partner always has her ex in mind. She may start to ask herself a lot of questions after such a reflection, worse, she may lose her self-esteem. Avoid talking about your exes.
6 – Do as you want: The woman hears rather "I don't care, take responsibility alone". Try to take 2 minutes and you will make her the happiest woman and it will cost you nothing.
7 – In the kitchen, my mother is the best! A woman does not like to be compared to your mother, each in her place. Your partner is your lover and partner and precisely far from being your mother.
8 – What is happening to you? You have a little face! The woman hears "Houla what you are pale (even ugly)! Instead of annoying her with this remark, act to make her feel better, or dig to find out the reason for her fatigue and make her change her mind.
9 – How many men have you dated before me? 1, 2, 3 or 20! What can this bring to your couple? If it responds, expect 3 things: 1-It may be disappointing for you, 2- you will start to imagine scenarios that (perhaps) do not exist and 3- it does not concern you, this does not concerns it.
10 – Do you go out like that? If she's dressed like that and she heads for the door it's obvious that she goes out like that. If you don't like her dress style and consider it too vulgar, for example, talk to her about it in a moment of relaxation or offer her clothes that may please her. She will make sure to approach this style if she wants to seduce you.
11 – You have a big button! She put a layer of foundation, a layer of powder, another layer of concealer and you still point out that she has a pimple. She must have seen it, you know?
12 – Stop getting upset: She is busy with the many tasks that she has to do, she does not do it anymore and you come to ask her to do something simple for you to do, she can take this to provocation and can be angry. Do not add this remark , you will only make the situation worse.